ACBL's Daily River Conditions
Updated Friday, February 3rd, 2023
Today's Key Issues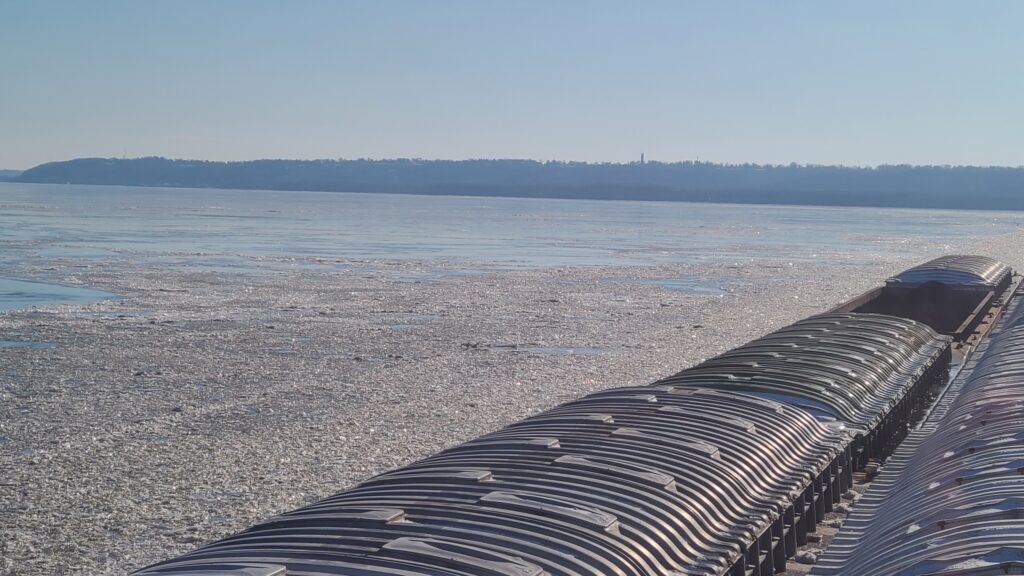 Ice Condition Update – Temps remain below freezing allowing for ice formation on the Illinois. Milder conditions are now forecast starting this weekend and longer-term for Feb, leading Industry to hope any ice formation is short-lived.

Tow Work and Lockage on the Illinois is delayed currently, but transit is less hindered.
Ice Couplings remain recommended on the Illinois, but ACBL and other operators have proactively implemented ice couplings in our tows.
Upper Miss Low Water – The Upper Miss remains recovering from the early week drop of nearly 6′. Long-term our Operations team remains concerned we will see a variable river stage until late March when the Missouri River flows resume.

ACBL Dry loading drafts decreased to 9.6 SBD for barges loading St. Louis through Cairo on Tuesday, 01/31.
Tow size is currently restricted to 20 barges SBD as of 02/01 due to substantial low water
2023 Upper Miss Reopening – ACBL has published our reopening plans, including dates upon which we will accept releases to destinations above St. Louis. Click here for the full letter.

ACBL will begin accepting releases from Gulf origins February 11th for St. Louis, MO thru Clinton, IA and February 21st for Dubuque, IA to St. Paul, MN.
Mel Price and Lock 27 Main Chamber Closures – Starting Jan 1, the main chamber at both Mel Price Lock (UM 200) and Lock 27 (UM 185) will be closed for maintenance. While the Auxiliary chamber will be in use, expect 3+ days of delays to transits above St. Louis. Ice conditions could exacerbate the impact of this work, scheduled through the end of March.

Lock 27– Currently has 16 boats to lock (Current average delay per boat is 28 hours)
Mel Price– Currently has 5 boats to lock (Current average delay per boat 30hours)
2023 Illinois River 120-Day Closure – ACBL has released our guidance for shipments to/from the Illinois River and Chicago which will be impacted by the lock closures (Marseilles, Dresden Island, and Brandon Road) Jun – Sep 2023. Click Here for our full guidance. Please contact your sales representative if you have further questions.
Kentucky Lock Intermittent Closure (TR 22) – February 13 – 17 will see multiple 4-hr closure for work on the locks.
Hannibal Lock Closure (OR 126) – The primary lock chamber will be closed from February 20th through April 7th from 06:00 – 23:59.
Dashields Lock Closure (OR 13.3) – The Primary Chamber will be closed from 13:00, February 16th, through 13:00, February 18th.
Lower Miss Tow Size Improvements – ACBL is closely monitoring river conditions and has further increased NBD tow size to six-widths on the Lower. Our larger horsepower classes are the only group experiencing reductions of 15%.
Norrell Lock (AK 10) – Intermittent closure for repairs and a 70′ width restriction started June 1st, 2022 with brief reprieve in August. The 70′ width restriction has been lifted as of December 7th with daily closures ongoing from 07:00 to 19:00 until the beginning of February, 2023.
Bayou Sorrel Intermittent Closures (PA 37) – Daily closures resumed November 28, 2022 from 07:00 to 16:00. The daily closures are projected to last till March 2023. Currently experiencing six hours of delay with three boats in queue.
Morgan City-Port Allen Alternate Route – The Bayou Sorrel River gauge was expected to hit 6.9′ with Bayou Sorrel Lock clearing out the waterway and not allowing further vessels to enter. Fortunately, at 19:00 Thursday night the Landside Gauge read 6.7 and the Floodside gauge read 6.8 with no change since this morning. The Bayou Sorrel Lock will continue to lock both north and southbound traffic at this time.
Algiers Lock Repair (WC 0) – USACE anticipates repairs beginning late February and lasting seven weeks which will be broken into three phases. Over the course of the projected work, there is an anticipated 20 days of daytime closures which will NOT be consecutive and will be staggered with only two- or three-days' of consecutive daytime closures at any time. Daytime closures will extend from 0630 – 1900.
Bayou Boeuf Lock (WC 94) – Beginning on February 6th, 2023, and continuing through approximately 19 February 2023, Bayou Boeuf lock will have intermittent openings for navigation with delays not to exceed six hours. The Hired Labor Unit will be working during daylight hours from 6:00 a.m. to 6:00 p.m., Mondays through Thursdays.
Calcasieu Lock (WC 241) – Will be closed to navigation beginning January 30th and continuing through March 3rd, from 7:00 a.m. until 5:00 p.m., Mondays through Fridays. Currently experiencing minimal delay. Per USACE, repairs may be extended past March 3rd if additional funds are made available.
Brazos Repair (WC 401) – Daily closure from Wednesday, 11 January 2023 thru Wednesday, 08 February 2023, from 07:00 to 19:00, Monday through Friday. Currently experiencing 4 hours of delay with three boats in queue.
Colorado Lock Closure (WC 440) – Resumption of work at the lock December 5th, 2022, thru March 10th, 2023 from 07:00 to 19:00.
Gulf Fog Delays – There have been significant fog delays since Saturday night / Sunday morning that have driven 10-15 hours of delay per day. In turn, we expect to see 36-48 hours of delay to transit until late week.
Industry Manpower Issues – The Inland Maritime Industry continues seeing major shortages of manpower. This is directly impacting the ability to crew towboats. As a result, expect 1–2 day delays in boat timings throughout the system, increasing overall barge transits in kind. ACBL has taken measures to increase our workforce throughout the system. The safety of our Mariners is our highest operating priority. Accordingly, ACBL has implemented measures and training programs to keep all of our team members safe.
River Closure & Restricted Movements
---
Weather Information
---
Additional Information
Next Page